Difference between revisions of "What is Opencaching?"
Jump to navigation
Jump to search
(cat)

Line 1:
Line 1:
−

[[Category:Info]]

+

[[Category:]]

 

== What is geocaching? ==

 

== What is geocaching? ==

 

[[File:Geocaching-symbol.png|thumb|150px]]

 

[[File:Geocaching-symbol.png|thumb|150px]]
---
Revision as of 02:23, 30 May 2016
What is geocaching?

Geocaching is an outdoor recreational activity, in which participants use a Global Positioning System (GPS) receiver or mobile device and other navigational techniques to hide and seek containers, called "geocaches" or "caches", anywhere in the world.
A typical cache is a small waterproof container containing a logbook (with a pen or pencil). The geocacher enters the date they found it and signs it with their established code name. After signing the log, the cache must be placed back exactly where the person found it.
(source: Wikipedia)
What is Opencaching?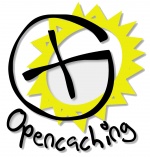 Opencaching is a term for geocaching that refers specifically to websites and services that offer a free and open portal for all of those who are interested in the activity, or sport, of geocaching. The goal is to provide a higher quality cache listing service in a user friendly format with features that members of the geocaching community have requested.
The main difference between Opencaching and traditional listing sites is that all services are open to the users at no cost. Generally, most geocaching services or websites offer some basic information for free, but users may have to pay for premium information or advanced searching capabilities. This is not the case with Opencaching ; every geocache is listed and accessible to everyone for free.
Opencaching sites provide independent, non-commercial listing service based in the cacher's country or region. Opencaching sites list the most types of caches, including traditional, virtual, moving, multi, quiz, webcam, BIT, guest book, USB, event and MP3. The Opencaching sites are less restrictive than others, and do not charge for the use of their services. They are volunteer community driven.
Additionally, Opencaching sites allow users to rate and report on existing geocaches. This allows users to see what other cachers think of the cache and it encourages participants to place higher quality caches. The rating system also greatly reduces the problem of abandoned or unsatisfactory caches still being listed after repeated negative comments or posts in the cache logs.
Anyone can register and use the various Opencaching sites for free and there are benefits of registering. One of the main benefits is that registrants can post geocaches of their own and advertise their locations to others. Those who have placed geocaches are responsible for maintaining them and taking care of any issues that may arise. Another benefit to registering is that users are able to log all their finds in one specific location.
Opencaching sites may or may not require the review of some (or all) new listings by volunteer members before being published. Although cross-listing (listing the same geocache on multiple sites) is permitted, it is discouraged.
(source: Wikipedia)
Opencaching goals
(translation of Opencaching.de Wiki article)
Enhanced Geocaching experience
There are no binding rules regarding hiding a geocache but most cachers prefer geocaches with a higher quality level. Geocaching should be a pleasant experience which brings fun, shows places of interest, history, nature or a special hiding place.
Opencaching is open and free of charge
Opencaching websites' content is open to all users at no cost. Anyone can register and use the personalised services for free. The content is licensed under Creative Commons. The Opencaching software is "Open Source" and licensed under a GNU GPL license.
Opencaching is non-commercial
It is a fundamental principle of Opencaching not to allow others to earn money out of your caches or logs. The "NC" = "Non-Commercial" part of the data license is ensuring that. The team members are all volunteers and do not gain benefit from their membership, or any other's for that matter.
Opencaching is independent
Opencaching does not represent the interests of third parties and is independent and community driven.
Opencaching encourages owners' responsibility
Each owner is responsible for the listings of her/his geocache(s). There are now binding rules how to describe or design the descriptions as long as cachers can find the geocache and legal regulations are observed. The owner can decide the status of a geocache, for example the time of publication of a new geocache.
Opencaching is fair and user-oriented
All users are bound to the same understandable and reasonable terms of use. There are no binding rules how and where to hide a geocache or how a geocache has to look like. The Opencaching Team acts in the interest of the website's users. Support requests or geocache reports are handled individually on a case-by-case basis.
Opencaching helps to protect nature
Some Opencaching websites display additional information if a geocache is located within a protected area. Cachers therefore know that they have to respect special regulations in the vicinity of the geocache. If a geocache is reported as in conflict with nature protection, the Opencaching Team archive a geocache after a case-by-case review.
Opencaching is open for new ideas
There are established habits and written and unwritten rules in geocaching. But Opencaching might go new ways or try new ideas. The same counts on owners' creativity that might produce unprecedented geocaches.
Opencaching is not a competitive sport
Opencaching is about single caches, not about power trails. It does not wish to promote geocaching as an competition. Statistic shall not supersede quality. Therefore it does not provide sophisticated statistics. Geocaches that only listed on Opencaching websites - so called OConly-geocaches - are preferred.
Safe - Legal - Ethical
When placing or seeking geocaches, a geocacher will:
Not endanger myself or others
Observe all laws & rules of the area
Respect property rights and seek permission where appropriate
Avoid causing disruptions or public alarm
Minimize my and others' impact on the environment
Be considerate of others
Protect the integrity of the game pieces
(source: The geocacher's creed: http://www.geocreed.info/)